Alan Powell is a self-made entrepreneur, a former Army Ranger, music, entertainment and sports marketing man and corporate branding mogul. In his spare time, when he's not buying and selling companies, he likes to ride his custom motorcycle.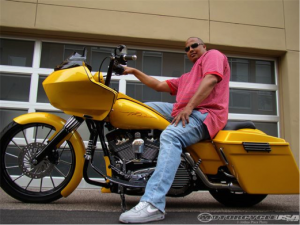 In fact, he had Paul Yaffe custom build this 2006 Yellow Road Glide.
This 2006 Harley-Davidson Road Glide is attention grabbing with its bright yellow paint and chrome-laden engine. Just like with his successful business, Alan Powell had a vision to do something different. He had Yaffe create a unique motorcycle for him.
Learn all about this one-of-a-kind motorcycle in this article.
Alan "AP" Powell is a Gulf War Veteran, Serial Entrepreneur, and a renowned Strategic Consultant developing strategic relationships for Fortune 500 companies. AP's business philosophy has been "turning contacts into contracts" and it has become the standard for all of his companies and investments. AP has diverse industry experience and has worked with companies like ISC, Diageo, Harley-Davidson, Coca-Cola, University of Phoenix, and Miller-Coors.