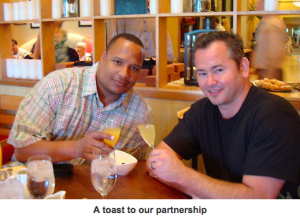 AP & Associates, LLC continues to promote the Paddington Brands. Their line of 3 Amigos Tequila, Napa Valley's craft beer, Agoston Wines, Marisco Wines, Calatrasi – La Piazza Wines, and Gemtree Wines are all under the care and representation of Alan Powell. AP & Assciates is continuing to foster strategic alliances to grow the Paddinton Brand presence. They are responsible for reaching Paddington's targeted audiences and expanding consumer footprints since 2011. Learn more about this exciting partnership and how AP & Associates can help your brand today.
To learn more about our partnership, click here.
Alan "AP" Powell is a Gulf War Veteran, Serial Entrepreneur, and a renowned Strategic Consultant developing strategic relationships for Fortune 500 companies. AP's business philosophy has been "turning contacts into contracts" and it has become the standard for all of his companies and investments. AP has diverse industry experience and has worked with companies like ISC, Diageo, Harley-Davidson, Coca-Cola, University of Phoenix, and Miller-Coors.