Alan Pow­ell is more than just an entre­pre­neur and enter­tain­ment guru, he's also been rid­ing motor­cy­cles for 30 years. He's such an expert, he's even been show­cased by the Ari­zona Bik­ers Guide. He takes rid­ing seri­ous­ly, just like his busi­ness AP & Asso­ciates, which he formed in 2004. AP & Asso­ciates is viewed in the indus­try as one of the most high­ly regard­ed com­pa­nies of its kind con­nect­ing For­tune 500 com­pa­nies, politi­cians, musi­cians, actors & ath­letes into strate­gic rela­tion­ships.
To read more about motor­cy­cle expert Alan Pow­ell, click here.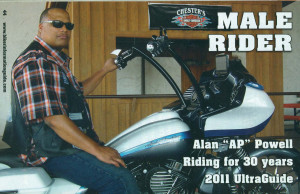 Alan "AP" Powell is a Gulf War Veteran, Serial Entrepreneur, and a renowned Strategic Consultant developing strategic relationships for Fortune 500 companies. AP's business philosophy has been "turning contacts into contracts" and it has become the standard for all of his companies and investments. AP has diverse industry experience and has worked with companies like ISC, Diageo, Harley-Davidson, Coca-Cola, University of Phoenix, and Miller-Coors.